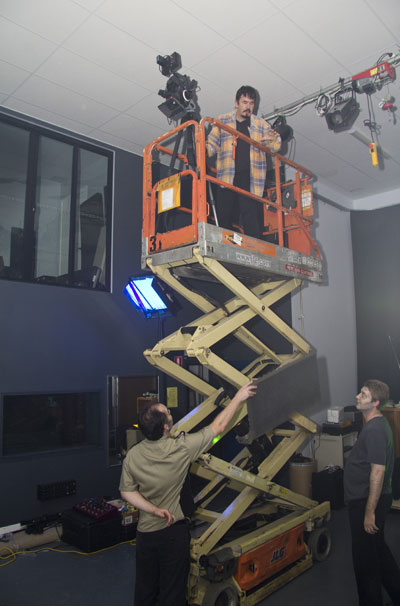 Angel Studios are leaders in the field of digital video. Building on our extensive experience in production of feature films, documentaries, music videos, and advertising, our talented team can provide a wide range of video services. Studio two is a great space for video when you need a sound stage with professional camera equipment, lighting and blue/green screen facilities. We can handle the complete project from script-writing right through to post-production, and provide the optimal final format for your project needs, including broadcast video, web-based video, DVD, and Blu-ray.
TV commercials
video recording
video editing
compositing
post production
CGI
chroma key (blue/green screen)
sound stage
DVD cover design, artwork and printing
powerpoint to DVD

infomercials
web video
music videos
presentations
showreels
script writing
casting
makeup
actors
dancers
Advertising
We work closely with our client's vision to create a marketing concept that will make their product stand out from the rest. With expertise in cinematography, 2D and 3D animation, VFX, and post production, we have the resources to produce a visually stunning result. If you need a TV commercial we can create one in Broadcast-ready format, and we are experts at creating infomercials and other video content for trade shows, conferences and point of sale marketing. Contact us to discuss a package that will suit your budget.
Training Videos
Our experienced team can help you produce a first-class workplace training or informational video for your staff or customers. We listen to your requirements and work closely with you to create exactly what you need. Help is also available with scripting, casting, and production, as well as artwork and packaging.
Web Video
Video has become an essential part of online advertising and social media. We can deliver high quality video, banner ads, and other content in the right formats for all your web and social media sites at very reasonable rates. Our digital experts can handle everything from the filming through to post production and can also assist with online integration.
Music Videos
Whether you recorded your music with Angel Studios or elsewhere, we are happy to help you produce a stunning, cutting edge video to compliment your sound. With top end gear and the latest production software, the only limits are your creativity and your budget. We offer a range of video packages to suit different budgets, so make a booking to meet with us to discuss your ideas and needs.
Showreels
If you're an actor, model, voiceover artist or dancer of any age we can organise a video or photographic shoot for you and put together an impressive showreel, from our footage or yours, to showcase your talents. We can also add you to our talent database.
Studio Space and Lighting Hire
If you're an Indie film producer with your own crew and equipment, but need the perfect location, talk to us about our very affordably priced soundproof room and lighting hire package, including our green screens. We can also organise actors, models, and photographic/cinemagraphic makeup. The room is also available for small movie screenings. It has high-definition projector, a 6m screen, and seating for around 60 people.