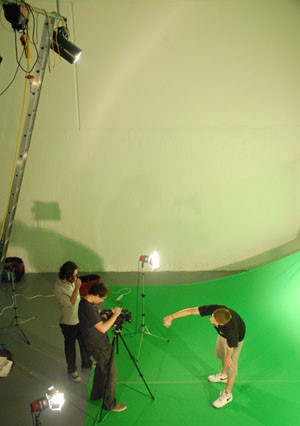 Lights, camera, action!
At Angel Studios, we use only the best equipment so that you can sound and look your best.
Video and Photographic Equipment:
Sony PMW-F5 CineAlta 4K Camera with Zeiss Cinema Prime Lens Kit
Sony HD PMW-EX3 Camera
Sony broadcast monitors
Betacam SP recorders/players
Extensive range of Adobe and Avid editing & effects software
DVD authoring software
2D and 3D Animation
CD/DVD transfer and duplication
Nikon D800 DSLR camera
Nikon SB-800 flash
Redhead lights
Light boxes, umbrellas, gel filters
Manfrotto boom-poles
Chroma key backgrounds - blue screen or green screen
48 channel computerised lighting desk
Fog machine & strobes
Dollies, rails & tripods
3 phase power socket
110 square metre sound stage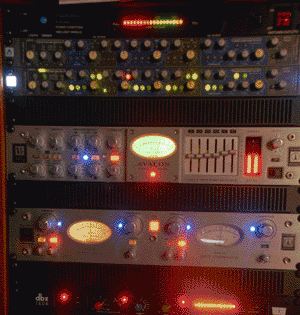 Microphones: We have a wide range of quality microphones, including:
Neumann (valve & transistor types)
Senheiser (MD421, MD431, ME 66/K6 shotgun)
AKG (D12, D19, D112, C1000, C414 (matched pair), C451B (matched pair), etc)
Coles Ribbon (matched pair)
Shure (SM57, SM58, etc)
Beyer
Rode (teaching mics)
Our experts will help you choose the perfect microphone for the job, and can also help with microphone technique if required.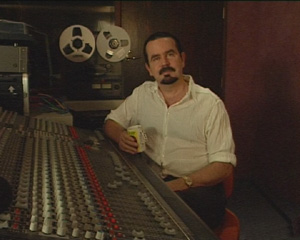 Recording Gear and Audio Effects:
This list is constantly being upgraded
Avalon compressors
DBX compressors
Amek compressors
Urei EQ's/compressors
TC Electronics reverb and echo
TC Electronics G-System limited edition guitar effects
Lexicon reverb and echo
TC Electronics pitch correction
Yamaha reverb & echo
Antares pitch correction
Amek channel in box (designed by Rupert Neve)
Amek 64 channel automated mixing console
Proteus 1 and 2
Yamaha Motif rack
Kef studio reference monitors
JBL and Tannoy monitors
Yamaha nearfield monitors
Crown laboratory amps
Leak amplification
Lynx Aurora 24 bit 192 KHz AD/DA converters
2 inch and 1/4 inch Lyrec and Otari tape recorders
Range of audio processing and mastering software
CD/DVD duplication
Lots of software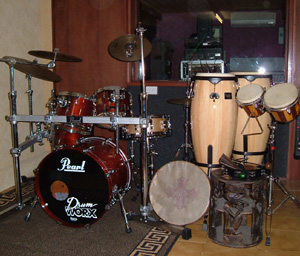 Drums and Percussion:
Pearl Masters Series
Zildjian
Ufip
Paiste
Congas
Bongos
Our Pearl Masters Mahogany kit was bought specifically for the studio, and sounds great when recorded. You can arrange to use our gear, or if you prefer, use your own. We can provide session drummers if you need them. BYO sticks.
Take your pick ...
Guitars and Amplifiers:
If you have a guitar and amplifier that gives you the perfect sound, we will happily mic it up. If not, we have a range of guitar and bass equipment and effects that should do the job.
Fender Stratocaster and Telecaster
Guild 1966 Starfire guitar
Gibson Les Paul Standard
Martin D28 acoustic
Marshall
Crown
Hartke
Vox AC30 50th Anniversary Limited Edition
Art effects pedals
Jim Dunlop wah wah
DBX
Little Lab DI's
Sans Amp bass DI
And much more
Keyboards:
We could fit your 9 foot Steinway grand piano in our studio, but if you don't want to carry it in you may use our keyboards
Roland RD700 SX and Yamaha electric pianos with 88 weighted keys
Midi keyboards