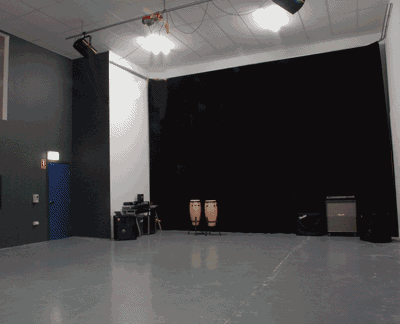 Studio 2: Purpose-built and professional.
Studio 2: 9/121 Kerry Rd. Archerfield
Studio 2 is a professional studio suitable for all types of recording and filming. Fully soundproof, acoustically treated, and tuneable, the main tracking room is around 110 square metres in size, and can easily accomodate a large choir or a small orchestra. The 6 metre ceilings give it an impressive big room ambiance - perfect for that big drum sound that can't be achieved any other way.
"Angel Studios looks a lot like Abbey Road Studios with it's high ceiling ... it has a very similar sound too, nice rich tones, nice drum tones ..."
-- Doug Ford, Master's Apprentices
The extra space also makes Studio 2 ideal as a live performance space with theatre seating for about 100 people, or as a sound stage for video and photography projects. In fact it was also designed with video in mind - performers can even be filmed from above. We have a range of backdrops, chroma key facilities, and a good selection professional lighting and video gear available.
The control room alone is bigger than the main room of many other studios, and is fitted out with a 64 channel Neve designed Amek Einstein mixer, Kef reference monitors, and other state of the art digital and analogue outboard gear, plus an extremely comfy sofa.
We also have a large green room/makeup room upstairs with kitchen and bathroom facilities for your convenience, plus off-street parking and loading bay with truck access.