> Welcome to Angel Studios - Brisbane Recording Studio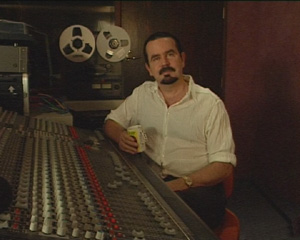 Why not drop in and see Paul for a free coffee and chat
about your project!
Angel Studios is one of Australia's finest professional recording environments, boasting Class-A multi-track analogue and digital recording equipment and facilities for broadcast quality video filming and production.
Studio 2 (Archerfield), acoustically designed by Dr. Paul Day, is a large purpose-built space which is perfect for professional recording and filming. This studio includes professional lighting and blue/green screen facilities, and can accomodate large scale projects such as choirs and orchestras, CD launches, video presentations, and functions.
Studio 1 (Mt. Gravatt), includes a spacious fully air-conditioned rehearsal room and a video post-production lab. It is currently used for rehearsals, video editing and compositing.
Studio 3 (Archerfield), is an electronic studio used for producing hip-hop tracks, beats, and urban music.

Angel Studios is also a teaching facility, offering courses and private lessons in audio engineering, music, dance, acting and film making, as well as a regular school work-experience programme, holiday workshops, and competitions.
Audio equipment includes: 64 channel automated Neve-designed Amek desk, 24 bit 192 KHz digital recording, Analogue 16/24 track 2 inch tape, extensive range of outboard gear (Avalon, Urei, Amek, Lexicon, DBX, TC Electronics), Microphones (valve, ribbon, etc). In-house drum kit (Pearl Masters Series), keyboards (Roland, Yamaha), and amps (Vox, Fender, Marshall). The equipment is regularly updated.
Video equipment includes: Sony PMW-EX3 XDCAM EX, and Betacam SP HD broadcast cameras, Sony broadcast monitors, recorders/players, extensive range of editing and effects software, broadcast quality capture cards, PAL/NTSC.
If you don't understand a word of that, don't worry! You don't need to be an expert to record with us, we will provide the knowledge, skills, and equipment to get you sounding your best - whether you're recording your masterpiece album, demo, or grandma's favourite song for her birthday.
Complete project package available
recording
mixing
mastering
professional arranging & orchestration
session musicians
rehearsal rooms
marketing & distribution
photography/portfolios

actors, dancers
choreography
makeup artists
lighting
video production
showreels
music videos
wedding packages

cd/dvd duplication
artwork
training videos
teaching workshops
short courses
private lessons (music, singing)
If you're interested in recording at Angel Studios, contact Paul for an appointment and pre-recording preparation.
You can also find some fascinating facts about recording in the advice pages