> Director's Blog
| 21-Jul08 | 14-Jul08 | 07-Jul08 | 30-Jun08 | 08-Jun08 | 24-May08 | 01-May08 | 01-Apr08 | 22-Feb08 | 27-Jan08 | 25-Dec07 |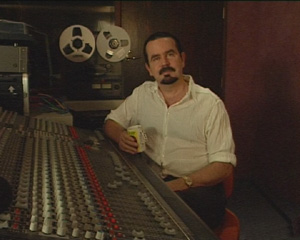 Jul 21, 2008
How Do I Write a song?
I want to start writing songs....but really, how do I start. I hear songs in my head but how do I translate this onto paper?
more ...
---
Jul 14, 2008
FIX It In THE MIX !!
Hi,
I often hear this comment when new bands come to record an album. "Don't worry about that. We can fix it in the mix"! This is one of those really bad ideas that people sometimes get.
more ...
---
Jul 07, 2008
Beyond Redemption is closer than you think!
Hi,
With it being more than a year since the release of my feature length sci fi epic, Redemption 101, I am pleased to announce that progress is being made with the writing of the next part of the adventure. This time around I am looking at producing it as a short series for DVD or TV.
more ...
---
Jun 30, 2008
How to make it as a professional musician
Hi,
Here we go again!
What does it take to become a professional musician?
more ...
---
Jun 18, 2008
Now is a good time to learn to play an instrument or sing.
Hi,
Have you noticed lately the similarities to the good ol 60's? When girls wore mini skirts, the threat of nuclear holocaust and America and Australia were at war with someone. This was a time when a lot of great classic tracks were written. Good old protest songs and the charged up lyrics of great writers like Bob Dylan, John Lennon etc. If you weren't around then, just listen to the endless loops played on TV late at night from Time Life trying to sell compilations of it.
more ...
---
Jun 08, 2008
How Much Should You Pay To Record an Album??
Hi,
I'm often asked how much will it cost to record an album, song, music video clip etc. It is an area which is clouded in confusion for most people recording for the first time.
more ...
---
May 24, 2008
How to pick the right Studio for your next recording
How to Pick the Best Studio !!
Want to record an album or make some creative statement and don't know where to go? This problem affects us all at some point in our careers. The answer is simple, record where you feel comfortable and creative. If you can't relax, it just won't happen. Don't worry about all the hype put out by various studios claiming to be the best etc. If they were, they wouldn't need to tell you.
more ...
---
May 01, 2008
May Update for Angel Studios
Just finished a very busy month in the studio. Produced a Rockabilly album for "Old 45s" and tracked a new album for the Indie melodic rock "The Transmitters". Numerous smaller projects coming up including a choir etc. etc.
Mick Diggles and the Blues Doctors will be recording a major album soon, once Mick returns from Chicago.
I have been recording my own material as well with Soul Purpose and others.
Our choreographer/dance instructor has been hard at work training dancers and preparing for shows. Interesting developments in the movie/video area are happening as well. More on this later.
We are now working more closely with "The Pavilion" night club providing them with bands from our client list. This gives a rare opportunity for many original bands to perform in a professional environment.
We are forming a resident band for backing artists coming through the studio and are happy to audition anyone interested in this.
Our next movie is in pre-production and interested parties should contact me for auditions. In particular we are looking for a talented actor with a French accent for our feature film.
Time for coffee now,
Dr Paul
Angel Studios
---
Tuesday, April 01, 2008
Angel Studios Update for April 2008
Hi again,
The months pass quickly when you're busy. Totally obsessed with Studio Two, every one loves the sound of the room and comments on it. Customers are happy and sending nice emails. Having trouble keeping up though, headaches abound and slow me down. Hayfever time of year according to my sinuses and everyone seems to be catching colds and flus already.
more ...
---
Friday, February 22, 2008
Sound advice on Recording
Hi,
I have been asked why I have gone to all the trouble and expense of building a second studio (which opens next week), when I already have a well equipped one now.
more ...
---
Sunday, January 27, 2008
Angel Studios Update 27 January, 2008
Hi again,
Enjoying a nice day here in Brisbane. Busy week recording at Studio One and outfitting Studio Two.
Lots of new gear turning up this week ... new quad-core computer, Lynx Aurora AD-DA converters etc, etc. Now rushing to finish wiring as we're booked to do several albums starting in early February. The Blues Doctors, The Transmitters, a compilation album, A Gospel Album and several others are lining up for the new studio.
more ...
---
Monday, December 25, 2007
Christmas Day 2007 Bah Humbug!
Another Christmas is here and what is under the tree...more bird droppings. Motley looks guilty and flies to her birdbath. I'm here alone having a peaceful morning, thinking about making a coffee......Correction now holding coffee and stale breadroll from yesterday. Motley wants her share of the roll...Is there no peace!
more ...
---